Kids Fingerprinting
At fingerprinting events, parents and children interact with trained PCSD Deputies to create a take-home identification kit. A child's fingerprints will NOT be shared or entered into any database.
It is recommended parents store this material with their family's important documents. It takes just a few moments and children of any age can participate.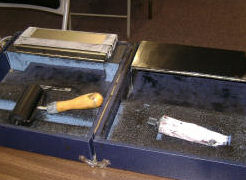 Above is the fingerprint kit used by Plymouth County deputies at community events. The fingerprinting for children program started in 1982 and was a task of the first 13 deputies of Plymouth County who were sworn-in in 1981. Today we have some 260 working deputies.
Fingerprinting sessions are held at the request of community groups, school groups, and daycares. There is no charge for this service.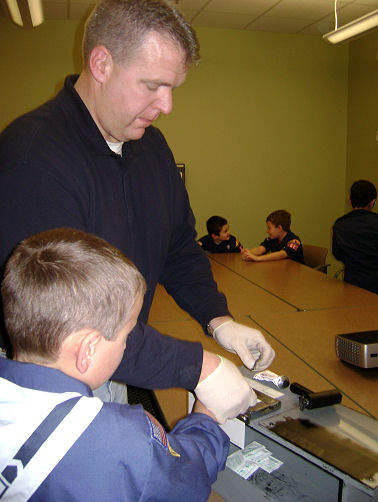 Deputies create an 8.5 x 11 sheet of paper. The sheet includes a digital photo, height, weight, name, address, birthmarks, and the child's fingerprints. This sheet is for parents only. We do not keep records of the fingerprints at the Sheriff's Department. Along with the sheet of paper, the computer generates two laminated IDs. One is for the parent and the other is for the child to carry. The ID is similar to a driver's license with a photo of the child. Fingerprints are not put on the IDs.
Sgt. Roland Fruzzetti runs the program and says "if a child was fingerprinted very young, parents should consider having new prints taken in 3 to 4 years. Parents can check our website, www.pcsdma.org, for upcoming fingerprinting events."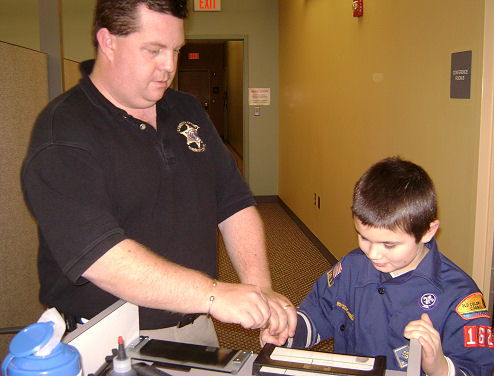 Sgt. Fruzzetti says, "The biggest concern from parents is whether or not we keep the fingerprints on file. The answer is no."