Inmate Programs
Plymouth County Correctional Facility is not just a house of corrections for our inmates. Here at PCCF we take pride in our efforts to turn the lives of our inmates around by the time they leave us. We do this with a variety of programs that are available to our inmates. Below is a brief description of each of our inmate programs.
Education
Top-notch inmate education programs at the Plymouth County Correctional Facility have earned the Sheriff's Department another prestigious accreditation from the Correctional Education Association (CEA).
The CEA is a national and international professional association dedicated to bringing educational and rehabilitative programming to detained adults and juveniles.
"Plymouth is the first institution to be accredited by the Correctional Education Association (CEA) in Massachusetts," Erica Houser, Assistant Director of CEA, wrote.
PCCF educational programs range from teaching basic reading and math skills to more advanced classes and innovative ways of learning. Below are several of our basic course titles followed by details on PCCF's more advanced courses and the G.E.D. program. Below is a list of the available courses and topics covered:
Reading & Literature Circles
Basic Math
Introduction to Computers
Public Speaking
Life Skills
GED Program: Inmates are able to earn their G.E.D. at the Plymouth County Correctional Facility. The General Educational Development preparation courses are held in the afternoon and get inmates ready for the GED exam. When they are ready, they can physically take the GED exam within the facility and receive their certificate upon passing.
Re-Entry Advocates
The Re-entry team at Plymouth County Correctional Facility consists of four Re-Entry Advocates and one Community Outreach Re-Entry Specialist to serve all sentenced inmates. Inmates are assigned to their advocate by last name so that they remain with the same advocate each time they are in the facility, regardless of where they are housed within the institution.
Each inmate sentenced to our facility is seen by their advocate the day after commitment. The inmate is notified of the variety of available resources both inside and outside of the facility. An individual discharge planning form is completed enabling the re-entry team at Plymouth County Correctional Facility to conduct a needs assessment in several areas:
Clothing Needs
DOR/Child Support
Education
Food Needs
Housing
Job Training and Placement
Medical Treatment
Mental Health Treatment
Religious Contacts
RMV
Social Security/SSDI/Mass Rehab
Substance use Disorder Treatment
Transportation
School and Job Fair Events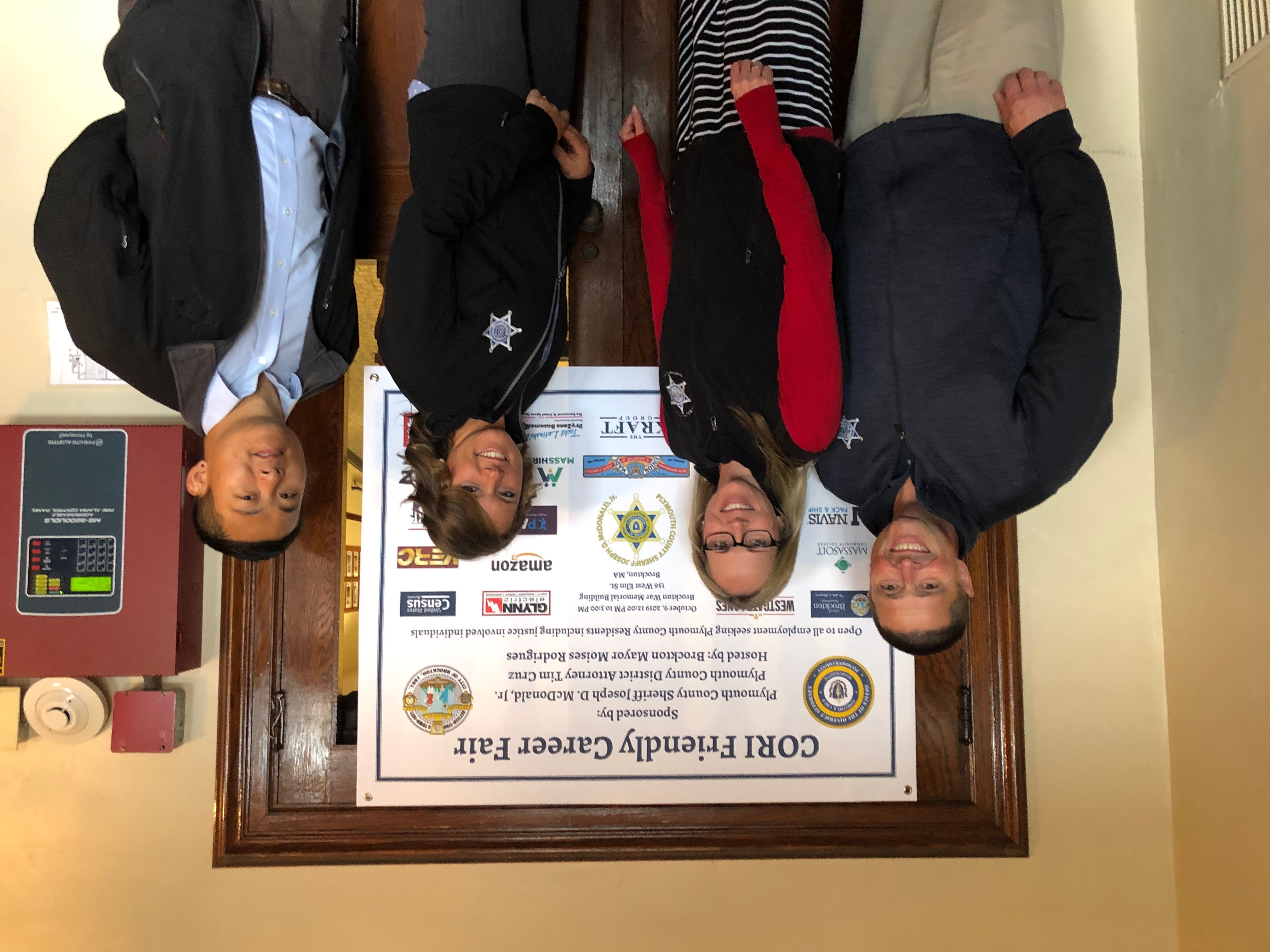 The CORI Friendly Career Fair was held in Brockton and gave the community a chance to seek employment opportunities through many of the sponsors of this event.
The event was coordinated by Jim Frazier - A Community Outreach Re-Entry Specialist currently working at Plymouth County Sheriff's Department.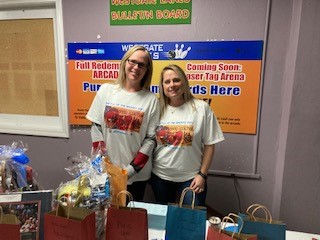 Michelle and Amy are two advocates who love doing volunteering events for Plymouth County Sheriff's Department!








Should an inmate request assistance in any of these areas, the advocate will research options and make appropriate referrals. The goal is to stimulate discussion should the inmate not have a healthy plan in place. After the first meeting, it is the inmates' responsibility to contact their re-entry advocate should they require assistance.
Religion
Reverend Daniel Croce is the PCCF Chaplain. In the 1980s, Rev. Croce was an inmate serving a sentence for killing a local police officer in a drunken driving crash.
His deepest satisfaction comes from seeing a couple of hundred inmates embrace the faith every year, just as he did. He says they seem more willing to open up to him because "they know I've done time. I've been there."
Church services and/or religious studies are available for inmates of all faiths.
There are weekly studies in the following religions:
Jewish Studies (English)
Prison Fellowship Studies (English)
Catholic Bible Studies (English & Spanish)
Protestant Bible Studies (English & Spanish)
Muslim Studies (English)
Jehovah Witness Studies (English & Portuguese)
Sheriff's Anti-Violence Effort (S.A.V.E.) Unit
The Anti-Violence Unit is open to sentenced inmates. There are both voluntary and mandated participants in the unit. In this immersion program participants reflect upon their violent tendencies through classes and lectures. Below is a description of the unit work the inmates complete.
VICTIM IMPACT PANELS: Victims of violent crime share their stories to SAVE Unit inmates in a non-confrontational manner. The victims detail the impact of crime on their lives, their families, and communities. The goal is for the inmates to understand the repercussion of their crimes, provide a positive outlet for victims, and continue building partnerships with justice agencies and victims service providers to end violent crime. Inmate evaluations show the panel contributes to attitude and perception change.
BATTERER'S INTERVENTION: The 12-week program is an intervention model, not a treatment model. The goal is to end domestic violence and ensure collaboration with other criminal justice agencies and victim advocates. The class provides concrete practical information to change abusive behavior and develop non-violent ways of relating to women. It encourages accountability, helps the inmates understand that their acts of violence control their partner's actions, thoughts, and feelings.
ANGER MANAGEMENT: This course provides instruction on strategies and techniques to manage anger, reduce conflict, and provide solutions for an inmate to better manage a daily schedule and routine.
CRIMINALITY CLASS: A cognitive- behavior class examines core beliefs: immediate versus delayed gratification, intellectual versus emotional decision making, and criminal and addictive tactics.
HOUSES OF HEALING: A course is based on a book written by prisoners for prisoners. The work helps inmates confront issues and learn to cope while complimenting their other courses inside the SAVE Unit. Details on the book are available by clicking HERE.
PROSE & CONS: This course examines themes of violence through classic literature. Inmates within the SAVE Unit soon realize the societal problems of Shakespeare's day are in line with their own: violence, betrayal, and jealousy.
Substance Use Disorder Unit
Approximately 75% of sentenced inmates incarcerated at Plymouth County Correctional Facility have been identified via classification as having a problem with substance misuse or chemical dependency.
The Substance Use Disorder Program at the Plymouth County Sheriff's Department is a four month, 62 bed program for sentenced male inmates who have a history of alcohol and/ or drug abuse. It is a 4 phased program based on cognitive- behavioral curriculum. The program is funded in part by the Department of Public Health Bureau of Substance Abuse Services (BSAS); therefor, the program is required to meet the clinical standards set by BSAS in order to ensure the provision of efficacious treatment services.
Inmates are referred through classification or submit a written request to the Substance use disorder program manager. In order to participate, inmates must have a minimum of 160 days left on their sentence, complete an assessment, and meet with the program manager prior to being brought into the Substance Use Disorder Program.
Mandatory morning meetings are held Monday through Friday; required and voluntary groups are held throughout the day. Mandatory classes focus on denial, the disease concept of addiction, relapse prevention, interpersonal and family relationships, emotional awareness, dual diagnosis education, process, criminality, spirituality, and coping skills. Voluntary groups are offered to participants wishing to go beyond the mandatory requirements of the program; these groups focus on step work, the Big Book, Mastering Resentments, fatherhood/ parenting, reading and reflections, and Houses of Healing. Four times a week a mandatory twelve step AA or NA meeting is held for all program participants; each participant is assigned to chair a meeting a minimum of two times during their participation in the program. Monthly mandatory presentations are offered on Infectious Diseases, Opiate Overdose Prevention, Compulsive Gambling, Re-Entry Services, and Tobacco Education. Community agencies are brought into the unit monthly to make guest presentations.
Program staff stresses discipline, structure, and responsibility each day, and expect that each participant will contribute both verbally and through written homework assignments. Participants are held accountable through a written contract signed upon entrance into the program and through a series of techniques designed to identify and rectify unhealthy choices and behaviors.
Staff conducts a formal intake and discharge with each participant, and halfway through the program each participant completes a 60-Day Review which is reviewed by staff and used to assess participant's level of commitment, motivation, participation, and desire to make change. Prior to completing the program, each participant is required to complete a detailed 8 page Individual Discharge Plan with the program manager. Individualized substance use disorder or dual diagnosis counseling is offered to a limited number of inmates who qualify for participation.
Vocational Training
Work created in The Plymouth County Correctional Facility's Print Shop has a dual purpose. It's an inmate vocational training program but also provides services for governmental and non-profit agencies at low cost. Whether it's printed material for a town's recreation department, silk-screened t-shirts for a charity road race, or official embroidered department jackets the inmates working the print shop produce high quality work under the direction of trained Corrections Officers.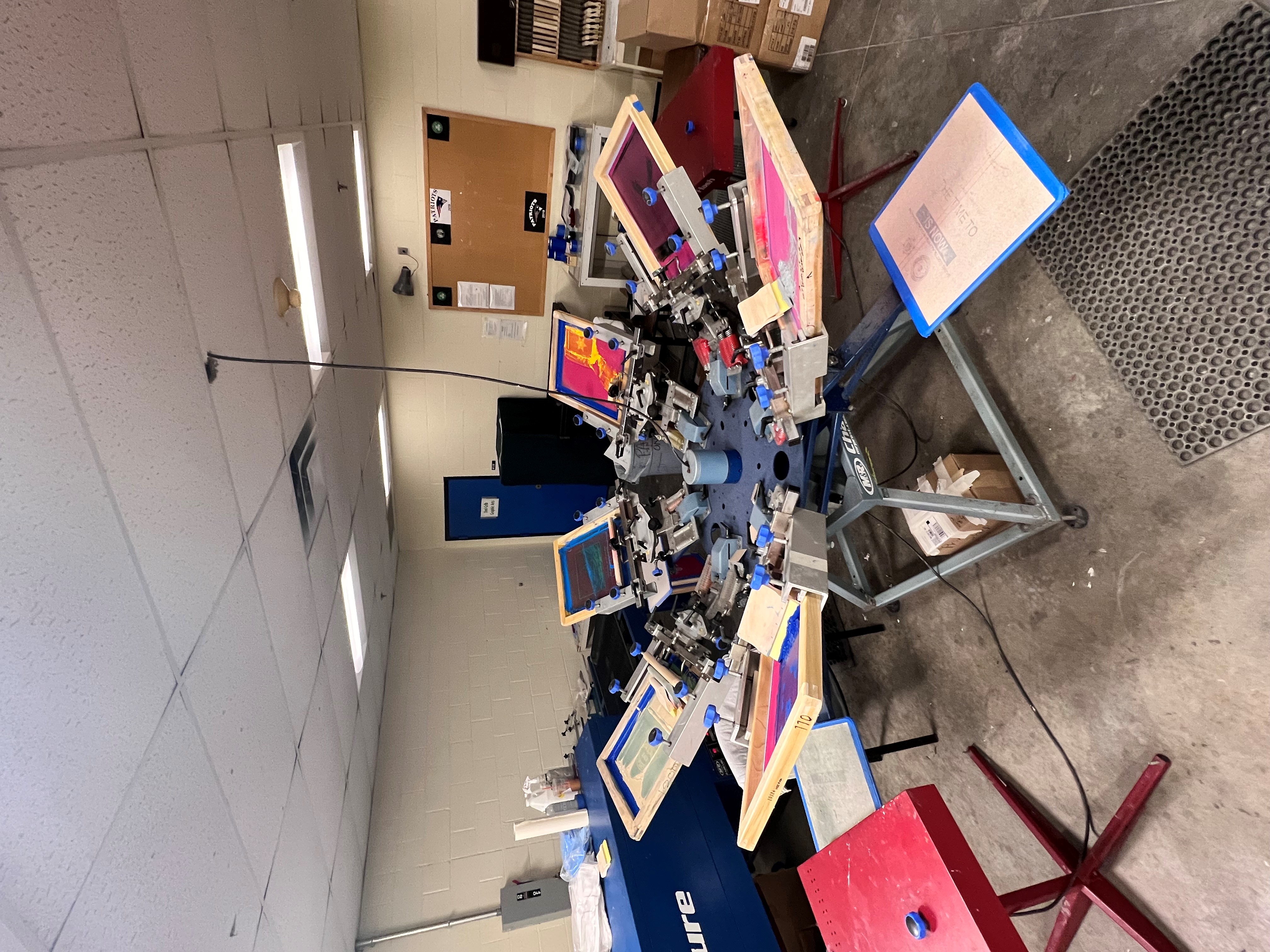 OFFSET PRINTING: Inmate students learn the concepts and theories of offset printing as well as the history of printing, paper and bindery. The class meets 3 times per week for 13 weeks with one night in the classroom and the others doing hands on work.
CONTINUING OFFSET PRINTING TRAINING: This course exposes inmates to a real-life print shop atmosphere. Multiple projects are going at once with deadlines to meet.
EMBROIDERY: The high-tech computerized embroidery machine comes to PCCF through a Byrne Grant. The grant provides 4-years of funding for the embroidery program and after that, the equipment begins to pay for itself.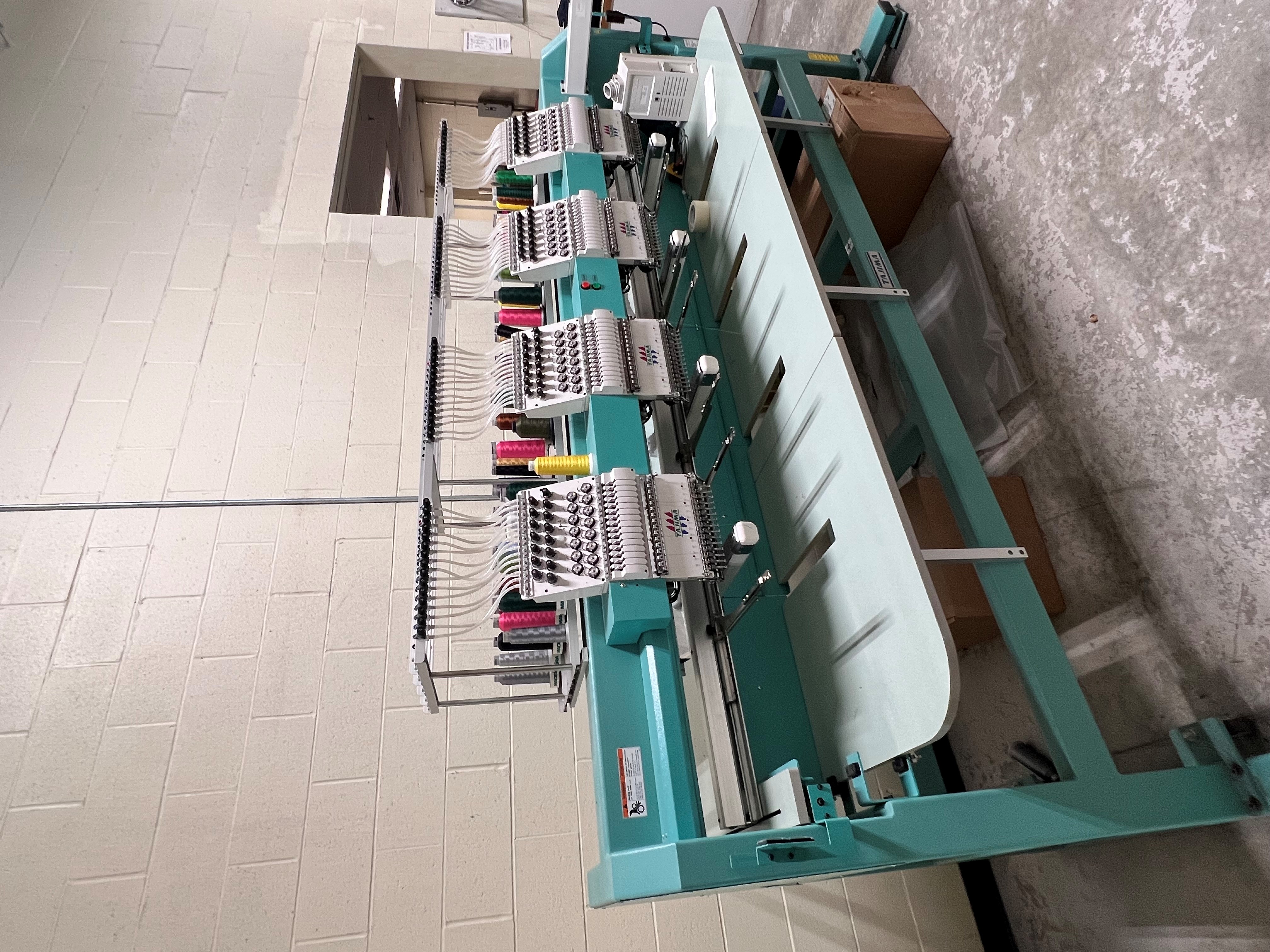 SILKSCREENING: Also part of a Byrne Grant, the silk-screening and embroidery courses are taught in the evening. Instructors are brought in to help inmate participants gain employment in the industry upon release.
The department is actively pursuing grants to secure funding for additional vocational programs to give inmates practical skills to use to their advantage upon release.